Outlining the South West
The South West coastline through the eyes of
painter & printmaker Anita Reynolds
The exhibition was at The Old Coastguard, Mousehole from April to June 2019.
The artworks included a pictorial record of my walk along
the 630 mile South West Coast Path. (Video here). During the walk I produced a set
of 56 daily prints, each capturing a different aspect of the journey, from
broad landscapes to intimate detail. Alongside a selection of these
daily prints were recent works from my winter residencies in
West Penwith and on the Isles of Scilly.
All work is framed, the prices quoted below include shipping within the UK.
Please email for further details.
Nanjizal
Mixed media on paper
60 x 60cm
£1800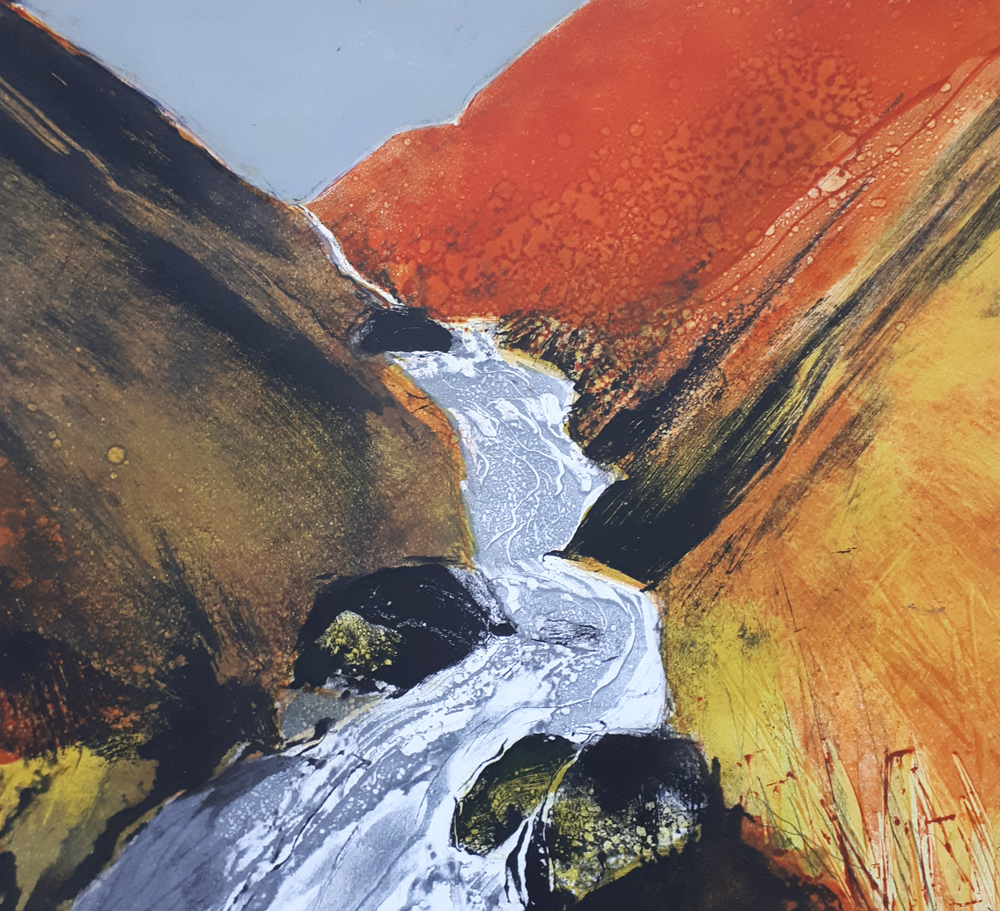 Cot Valley
Mixed media on paper
120 x 60cm
£2000
Crown Engine Houses - Botallack
Landing Beach in Winter - Samson
Landing Beach at Dusk - Samson
Trewellard Zawn
3 Panel Monotype
60 x 100cm
Sold
Chapel Cove
Mixed Media on Board
40 x 40cm
£1200
Hawthorns on the Pendeen Road
Black Flow
Soil, Charcoal & Acrylic on Board
30 x 40cm, float mounted in white
£600
Adit
Acrylic on paper
43 x 43cm
£1000
Carn Galver to Bosigran I
Walking North from Cape Cornwall
Carn Galver to Bosigran II
Day 1: Hurlstone Point from Bossington Beach
Carborundum & Drypoint Print
17 x 17cm, Edition of 10
£250
Day 9: Hartland Quay
Carborundum & Collagraph Print
17 x 17cm, Edition of 10
£250
Day 12: Scarnor Point
Collagraph Print
17 x 17cm, Edition of 10
£250
Day 14: Port Quin
Carborundum & Drypoint Print
17 x 17cm, Edition of 10
£250
Day 15: Sky, Rock, Sea, Thrift (Gunver Head)
Carborundum & Drypoint Print
17 x 17cm, Edition of 10
£250
Day 16: Bedruthan Steps
Carborundum & Drypoint Print
17 x 17cm, Edition of 10
£250
Day 17: Hawthorn & Campions
Carborundum & Drypoint Print
17 x 17cm, Edition of 10
£250
Day 18: Wheal Coates
Carborundum & Drypoint Print
17 x 17cm, Edition of 10
£250
Day 21: Hayle Beach
Carborundum & Drypoint Print
17 x 17cm, Edition of 10
£250
Day 22: St. Ives
Carborundum & Drypoint Print
17 x 17cm, Edition of 10
£250
Day 24: The Avarack
Collagraph Print
17 x 17cm, Edition of 10
£250
Day 26: Mousehole Harbour
Carborundum & Drypoint Print
17 x 17cm, Edition of 10
£250
Day 30: Jackdaws at Carrick Luz
Carborundum & Drypoint Print
17 x 17cm, Edition of 10
£250
Day 31: Hawthorn in Bloom at Nare Point
Carborundum & Drypoint Print
17 x 17cm, Edition of 10
£250
Day 37: Charlestown Harbour
Carborundum & Drypoint Print
17 x 17cm, Edition of 10
£250
Day 38: Colors Cove
Collagraph Print
17 x 17cm, Edition of 10
£250
Day 41: Greenfinches on Staddon Heights
Carborundum & Drypoint Print
17 x 17cm, Edition of 10
£250
Day 47: Mew Stone from Kelly's Cove
Carborundum & Drypoint Print
17 x 17cm, Edition of 10
£250
Day 56: Ballard Down
Carborundum & Drypoint Print
17 x 17cm, Edition of 10
£250
Charlestown Harbour
Carborundum & Drypoint Print
25 x 60cm. Edition of 10
£600
Jackdaws at Carrick Luz
Carborundum & Drypoint Print
25 x 60cm. Edition of 5
£600
Fisherman's Refuge
Collagraph, Edition of 15
15 x 15cm
£150
Balweyth Ertach
Collagraph, edition of 10
30 x 30cm, framed in white
£400
Escaping the Swale I
Carborundum & Drypoint with Monotype, edition of 8
24 x 24cm
Sold
Winter Harbour
Acrylic on Paper
15 x 15cm
Sold
Gorse at Start Point
Collagraph, edition of 10
33 x 51cm
£500
Blacksticks and Thistles on the Revelstoke Drive